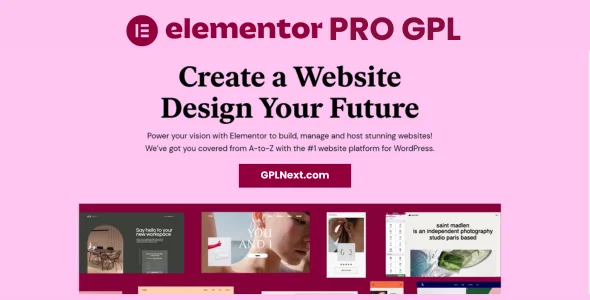 Are you seeking the ultimate solution to build a breathtaking WordPress website without dabbling in code? Look no further than Elementor Pro GPL! As an incredibly powerful page builder, Elementor Pro boasts a myriad of features that effortlessly streamline the web design process. Whether you are a beginner or an expert, this article provides an in-depth look at everything Elementor Pro has to offer. Buckle up and dive into the world of limitless possibilities!
What is Elementor Pro GPL?
Elementor Pro GPL is the premium version of Elementor, a widely acclaimed WordPress page builder plugin. With a user-friendly drag-and-drop interface, it empowers users to create stunning websites with ease. Moreover, Elementor Pro enhances the base functionality of the free version, providing additional widgets, templates, and tools that are essential for professionals.
Features
1. Advanced Widgets: Elementor Pro GPL boasts over 50 advanced widgets, including price tables, countdown timers, forms, and more, providing extra flair and functionality to your site.
2. Theme Builder: With the theme builder, customize every aspect of your site, from the header and footer to the blog layout, with complete freedom and control.
3. WooCommerce Builder: An essential for e-commerce sites, the WooCommerce Builder allows seamless integration and customization of your online store within Elementor.
4. Global Widgets: Create a widget, like a contact form or a call-to-action button, and use it across multiple pages or areas. Edit the global widget, and the changes will reflect everywhere it's used.
5. Popup Builder: Craft beautiful popups, modals, or notification bars to improve conversions and engagements without using third-party plugins.
6. Dynamic Content: With Elementor Pro, you can integrate custom fields and dynamically display content from your WordPress site, such as post lists or user information.
7. Motion Effects & Animations: Animate your elements with elegant motion effects. Select from a wide range of animations or create your own to add an extra layer of interactivity to your site.
8. Custom CSS: For those who desire additional customization, Elementor Pro allows you to add your own CSS code to individual elements or the entire page.
9. Responsive Design Controls: Ensure your site looks impeccable on all devices by tweaking settings specifically for desktops, tablets, or mobile devices.
10. Role Manager: Control what different user roles can do within Elementor, ensuring security and responsibility across your team.
Conclusion
Elementor Pro GPL Free Download is truly a game-changer. With a treasure trove of advanced widgets, it's a breeze to add flair to your site. What's more, the theme and WooCommerce builders are robust and versatile. They hand you the reins to exercise full control over your site's design. But that's not all! The intuitive drag-and-drop interface is the cherry on top. It makes customization a walk in the park. Plus, with global widgets, you can save time by reusing elements.
Also, dynamic content lets your site evolve with your needs. The best part? Elementor Pro Nulled users get access to premium support. Yes, you heard that right! You can count on regular updates and timely help. In short, this tool is an investment you won't regret. So, why wait? Dive in, and let Elementor Pro unleash the true potential of your websites.